Note by Senior Minister of State for Law and Finance, Indranee Rajah S.C., on Companies (Amendment) Bill and Limited Liability Partnerships (Amendment) Bill
Note by Senior Minister of State for Law and Finance, Indranee Rajah S.C., on Companies (Amendment) Bill and Limited Liability Partnerships (Amendment) Bill
21 Mar 2017 Posted in Legal Industry Newsletters
On 10 March 2017, Parliament passed the Companies (Amendment) Bill and Limited Liability Partnerships (Amendment) Bill. These amendments are part of the continuous effort to keep Singapore business friendly and competitive, and properly positioned to pursue growth areas; and at the same time maintaining integrity as an international financial centre and keeping in line with international norms.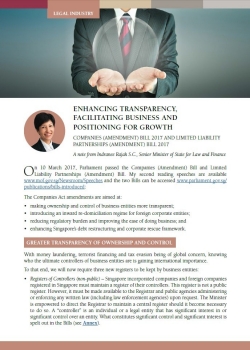 Note on Companies (Amendment) Bill and LLP (Amendment) Bill(352KB)
Addendum
The debt restructuring-related amendments to the Companies (Amendment) Bill are expected to be brought into force in the second quarter of 2017. The Ministry of Law will make the relevant announcements when the law is brought into force.
Last updated on 05 Apr 2017