Speech by SMS Assoc Prof Ho Peng Kee at the Launch of the International Chamber of Commerce, Regional Office, Asia, at Maxwell Chambers
20 Jan 2010 Posted in Speeches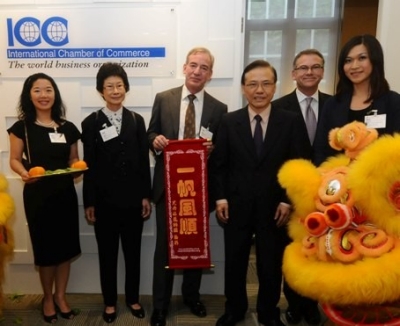 From left: Ms Khong Cheng-Yee (Director and Counsel, Secretariat of the ICC International Court of Arbitration – Asia Office), Mrs Lee Ju Song (Director, International Chamber of Commerce, Regional Office, Asia), Mr John Beechey (Chairman, ICC International Court of Arbitration) Assoc Professor Ho Peng Kee (Senior Minister of State, Ministry of Law), Mr Jason Fry (Secretary General, ICC International Court of Arbitration), Ms Ow Kim Kit (Director, ICC Arbitration & ADR, Asia, International Chamber of Commerce, Regional Office, Asia)
Mr John Beechey, Chairman of the ICC International Court of Arbitration,
Mr Jason Fry, Secretary General of the ICC International Court of Arbitration,


Distinguished guests,

Ladies and gentlemen,

Good afternoon.

I am happy to join you today for this official opening of the ICC, Regional Office, Asia here in Maxwell Chambers.

Role of the ICC, Regional Office, Asia
The ICC has enhanced the role of its regional office to include the marketing of its arbitration services. Hence, this office, the ICC, Regional Office, Asia plays a pivotal role in raising the organisation's profile in Asia and promoting a wide spectrum of ICC's work, including ICC arbitration and dispute resolution services, throughout the region. By setting up a presence in Singapore, you add to the allure already generated by the many premier arbitral institutions which had earlier established a presence here. Having worked at promoting Singapore as an ADR hub since the mid 90's, it brings me immense satisfaction to meet all of you today.
Singapore as an arbitration centre
Singapore is committed to promoting arbitration as a means of resolving commercial disputes. We have a long way, but we are resolutely pressing on. Indeed, the surge in the number of international arbitration cases conducted here in recent years, especially the last 2-3 years, bears testimony to this resolve. A 2008 ICC-ICA study listed Singapore as the top destination for ICC-ICA cases in Asia, and fifth in the world after Paris, London, Geneva and Zurich. The opening of this office therefore dovetails very well with our twin goals of firstly, strengthening Singapore itself as a regional arbitration hub and secondly, holding out Singapore as a launch pad to serve the arbitration needs of Asia as a whole.
It is very meaningful that the official opening of the ICC, Regional Office, Asia takes place just a day before the Grand Opening of these Chambers and the Singapore International Arbitration Forum 2010, which I believe many of you will be attending.
On this note, I wish the ICC, Regional Office, Asia all the best and especially to our friends from abroad, a pleasant stay in Singapore. Do come again where our two Integrated Resorts at Sentosa and Marina Bay are up and running in the near future.
Thank you.
Last updated on 13 May 2014