Visit by Bangladesh State Minister of Law, Justice and Parliamentary Affairs, Md Qamrul Islam
Visit by Bangladesh State Minister of Law, Justice and Parliamentary Affairs, Md Qamrul Islam
16 May 2013 Posted in Visits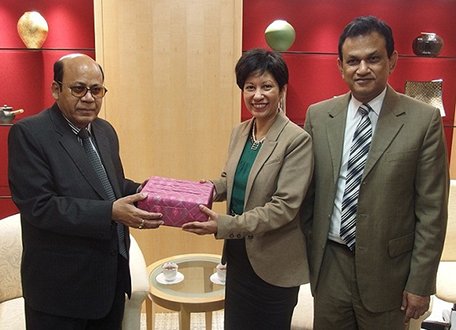 State Minister of Law, Justice and Parliamentary Affairs of the People's Republic of Bangladesh, Mr Md Qamrul Islam, with Senior Minister of State for Law, Ms Indranee Rajah
The State Minister of Law, Justice and Parliamentary Affairs of the People's Republic of Bangladesh, Mr Md Qamrul Islam, visited the Ministry of Law on 16 May 2013 and met with Senior Minister of State Indranee Rajah.
Mr Islam and Ms Rajah exchanged views on the latest developments in areas such as arbitration, legal services and law reform. Mr Islam, who expressed admiration for Singapore's efficient and transparent legal system, was interested in Singapore's growth as an arbitration hub, and its development of an effective commercial mediation regime. Ms Rajah shared with him Singapore's current legal framework for arbitration, and our efforts to remain at the cutting edge of arbitration practice, including providing world-class facilities to support our position as an international dispute resolution venue.
Both sides had a good discussion and affirmed their desire to strengthen the bilateral ties between Singapore and Bangladesh.
Last updated on 21 Sep 2015